Welcome to the world of Exclusive Group Training
St. George Lycabettus offers its guests an exclusive group training experience in collaboration with Aegeo Workout Spas and executive personal trainer Mr. Tasos Hamberis.
Stay in shape while on holiday; make the most of your business visit in Athens with our exclusive group programs.
We offer you the chance to train in groups of no more than 7 people, and at the same time our specialized trainers will focus on your personal needs just like a personal training session.
Choose between Pilates, Spinning, TRX and Yoga sessions or make a personal training request for a 1 on 1 session with our certified trainers.
Don't forget to ask reception or Workout desk (floor B) for information on our very special "Spinning the Acropolis" event.
Feel the magic of one of the most spectacular views in the world, embrace the Acropolis by participating in one of the most exciting training programs one can be a part of.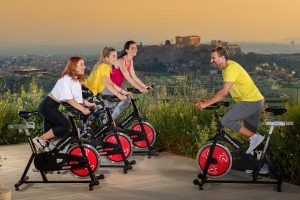 After training, rejuvenate body and soul from our vast selection of face and body treatments by Aegeo Spas. Click here to explore our menu.
For more information and training schedule or how to participate in our Spinning the Acropolis program, please contact hotel reception or Workout desk (level B)
Aegeo Workout Spas by Tasos Hamberis Terms & Conditions apply.